You already know that progeCAD is virtually the same system as autoCAD, but we still hear that people want to work quicker and more efficiently. You probably already use your Windows shortcuts, but progeCAD has specific shortcuts for it's product that can greatly reduce the time your spending on your work. Let us know if you've found any tips that help you work more efficiently!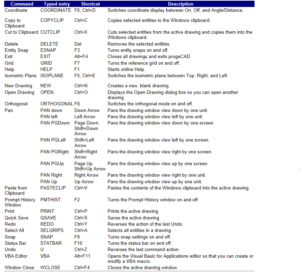 You probably can't see those commands, so check them out full size on Caddit's site and while you're there , click around for more great command references and variables.
Tomorrow we'll chat a bit about some tips, tricks, and work arounds that maybe you've been missing out on. Also, if you're not signed up for our mailing list – do so today, on Monday we'll be sending out a contest that has several prizes (that have nothing to do with progeCAD;) Happy Saturday!